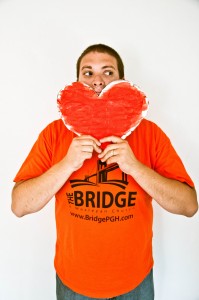 Good evening, fellow Sojourners!
Yesterday, we sent out a brief update about some of the exciting things happening with The Bridge; we also shared our need for financial support.  As promised, here are a few of the ways you can help:
Pray for God's continued and unique provision; ask him to stir the hearts of donors and to create income opportunities for us.  We know God alone is our provider and has proven himself more than faithful time after time.  The way he provides often surprises us, and we're thankful for the 'willing vessels' he is already using.  Please also pray that we would have eyes that see the opportunities which come our way and the courage to jump into them!
If you have committed to give but have not yet followed-through on that commitment as an individual, group, or church, please do so now; if you will be unable to fulfill what was promised, please let us know.  Many of our issues with shortfall have to do with the fact that promised support has not yet been delivered.  Just having those who already said they would give do just that would be a tremendous blessing.
If you have been waiting for the right opportunity to give, genuinely seek the Holy Spirit to see if now is that time–the Spirit of God is moving and we could use your help!
If you have been looking for a different way of providing resources to The Bridge, perhaps you can use our ministry catalog to give practical gifts toward our ministry.  The catalog can also be downloaded from The Bridge's website here.
As you provide personal support, please make sure "Gomez" is in the memo line of your check and that it is sent to our bookkeeper at:
The Bridge
c/o 264 Shawville Hwy
Woodland, PA 16881
Thanks, again, for taking this journey with us.