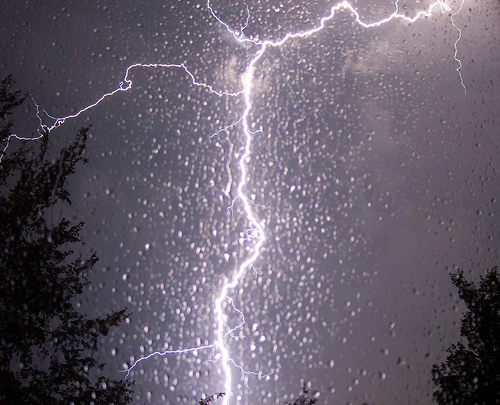 <image courtesy of c.p.storm>
For the LORD your God dried up the Jordan before you until you had crossed over. The LORD your God did to the Jordan what he had done to the Red Sea when he dried it up before us until we had crossed over. He did this so that all the peoples of the earth might know that the hand of the LORD is powerful and so that you might always fear the LORD your God."

Now when all the Amorite kings west of the Jordan and all the Canaanite kings along the coast heard how the LORD had dried up the Jordan before the Israelites until they had crossed over, their hearts melted in fear and they no longer had the courage to face the Israelites.      ~ Joshua 4:23-5:1, TNIV
We're discussing how to be ready for some of the battles that come our way in life.  You can read the introduction here .  But the above passage seems to indicate a need to remember God's power.
Just before the activities of the above passage take plaace, a memorial of 12 very large stones was set up in the Jordan River. The reason, we're told, is so that the Israelites would know "the hand of the LORD is powerful and they would fear him."  This was partly, I think, because of the ages-old temptation to try to do what was before them within their own strength—the people were great in number and had been waiting a very long time for the chance to make the land they were now in their own.  The memorial, however, served as a reminder they had made it this far only by God's power and would continue on in the same way.
God is reminding the people of the power they had seen and experienced so they will remember:
Only by God's power would they continue to be victorious.
The same incredible, life-changing, future-directing, enemy squashing power could also destroy the Israelites. The people are called to fear God—not just respect with healthy reverence, but I believe, to have some fear of him because of his incredible power, authority, and righteousness.  The knowledge that a Holy, Powerful God was using them did not override their need for this same Pwerful, Holy God to continually sustain them.
The rocks in the river would be a reminder of the mighty acts of power God had demonstrated… and would help them to stand firm.   The same God who had rescued, sustained, protected, fed them; who had miraculously provided travel through impassable obstacles and felled mighty armies would again be their strength, shelter, and commander in battle, securing victory.
Before we fight the battles coming our way (or that are already raging around us), we must remember and recognize God's power in our lives regardless of the situation we find ourselves in.
Later in Scripture, we are reminded that in Christ, we are more than victorious and the world kingdoms are becoming the Kingdom of our Christ.  This should draw us ever deeper into relationship with him—his love, majesty, and power are perfect, and outside of him, we can never know victory.  The same God who has rescued us, sovereignly directed us, brought us safely thus far, protected us from who-knows-what, and draws us into fellowship with him is the only one powerful enough to keep leading, keep rescuing, keep granting victory.
What powerful acts of greatness has God advanced in history and your life that draw you to build a monument in your mind, remembering the victory he brings and the power he gives?
When we can see a battle coming our way– and even when we find ourselves entrenched in a fight–we are wise to remember, reflect, and rely on God's power rather than our own.  After all, his is the kind of power that is found when we are weak; his is the kind of influence had when we are foolish; his is the kind of leadership seen when we are servants.  It may not be what we would instinvtively choose, but his way is, simply, right.