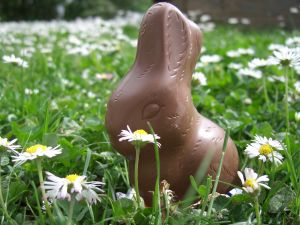 <Image courtesy of aschaeffer>
—
We're answering the question of "How do I know when to take that leap of faith?" with a series of other questions found in Joshua chapter 3.
The Ark of the covenant is mentioned NINE TIMES in Joshua 3—and until now, it hasn't been mentioned at all in the book.  Remember, the Ark is a sign and symbol of God's presence with his people and serves as a war standard going before them.  Here's what we find in the chapter:
When you see the ark of the covenant of the LORD your God…
…keep a distance of about two thousand cubits between you and the ark…
Joshua said to the priests, 'take up the ark of the covenant…'
Tell the priests who carry the ark of the covenant
See, the ark of the covenant of the LORD of all the earth will go into the Jordan ahead of you.
…the priests who carry the ark of the LORD…
…As soon as the priests who carried the ark…
…the priests who carried the ark of the covenant of the LORD
It's pretty obvious that the presence, leadership, and symbol of God going before his people was paramount to those about to cross the Jordan river.  There was something significant to Joshua and the nation about having the Ark present and going before the people–everything in its proper order.  Before we take steps of faith, the giver of faith needs to be foremost in our lives.
There's an old recipe for rabbit stew that begins, "First, catch the rabbit…"  When it comes to exercising faith, it's important to make sure first things really are first.  Otherwise, it's kind of like trying to make rabbit stew without the main ingredient.
First things first for us means that God is the one leading us—and we aren't being led by our own desires for promotion, comfort, recognition, safety, or complacency.  It's also important to note that church is not the same thing as God (though, I'm all for an incarnational understanding of being Christ).  It's possible to be the busiest most churchified person you know and not really have first things first.  You can be religious without following God.
But if we are in Christ and he is in the place of prominence in our lives, we know we have his leadership, his comfort, his direction, his hope all in the pursuit of his Kingdom.
If we take a step of faith without having first things first, it's probably not a step of faith at all, but is more likely an exercise in the worship of self.  That isn't a risk worth taking.