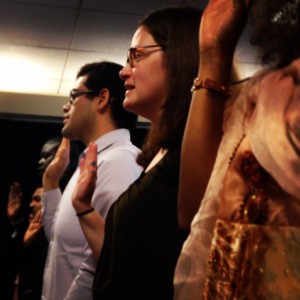 Last Friday, Sarah and I spent the day celebrating a moment almost eight years in the making. Fun times with an attorney, piles of paperwork, several hours of travel for–and time in–interviews, and submission to process culminated that morning as Sarah took an oath to became a naturalized citizen of the United States.
Sarah submitted to a process for which I sponsored her—as a citizen-in-watiing, she needed an existing citizen to promise two things:
Provision: I had to attest that I could provide for Sarah and our household without relying on government assistance. Every time our address changed, the government wanted to confirm where I resided so they could be sure appropriate provision would be available to Sarah.
Relationship: Sarah's basis for permanent residency and citizenship has been that she is my wife. We had to provide evidence of genuine relationship; having offspring helped, but what sealed the deal was a joint checking account.
No doubt, the most significant part for Sarah in all of this was the requirement for her to renounce any other citizenship. She had to choose an identity not as 'a Canadian living in the US,' but as an American… no small request on my part or that of my (and now her) country.
In all of this, I'm reminded of the availability for us to have citizenship in Heaven. In a similar way, all of us are citizens-in-waiting, requiring a sponsor. We need the same two things, provision and relationship, but on a cosmic scale.
A Sponsor has been given: Heaven's First Citizen offered this provision and relationship to us. Ultimately, God doesn't care about our ability to provide anything for ourselves financially (the economy of Heaven says that all things are from, through, and to Him, anyway); the cost of entry into the Kingdom of Heaven is the making right of our deep brokenness… a healing we could never provide for ourselves. Because of relationship with Him, access to Heaven is given freely—relationship with him means we are given His righteousness, the requirement for entry.
This citizenship comes with the cost of laying aside citizenship of this world for the sake of living in the reality of a new identity. This new identity demands that what would naturally be important (self preservation, self advancement, and the pursuit of comfort, to name a few things) is laid aside. Instead we live out the priorities of Jesus in submission to him: justice, mercy, and hope for others, even at the cost of our own lives.
I'm thankful for Sarah's desire to become an American citizen…for her to make "my country" her home and in an official way "belong" here. I'm more thankful that she and I are citizens of Heaven, a citizenship transcending any national identity because Someone loved us enough to offer relationship and provision…allowing us to "belong" where we would otherwise have no access.